You have a Honeybee Swarm who are you going to call?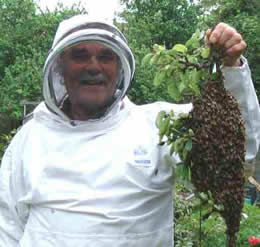 To find a swarm collector, please see the "swarm" page on the BBKA's Website.
All KBKA swarm collectors, and those of neighbouring associations, are listed there.

Before contacting any, however, please check that it is a swarm of honey bees (there is information to help you on that page), and make sure you know the exact location of the swarm (including the postcode, if possible). It also helps if you take a photograph showing where the swarm is, and how easy it is to reach.

Most beekeepers do not charge for removing a swarm, but may need to cover reasonable travel costs, so please check this when you contact a swarm collector.

Finally, please remember that swarm collectors are volunteers and amateurs, who aren't skilled, equipped or insured for anything more than beekeeping. We can collect swarms, if it's safe to do so, and can be done without damaging property or risking anyone's safety, but we cannot guarantee to be able to remove every swarm.